September 20th, 2016
Blue Door Dental Practice Doonhamer report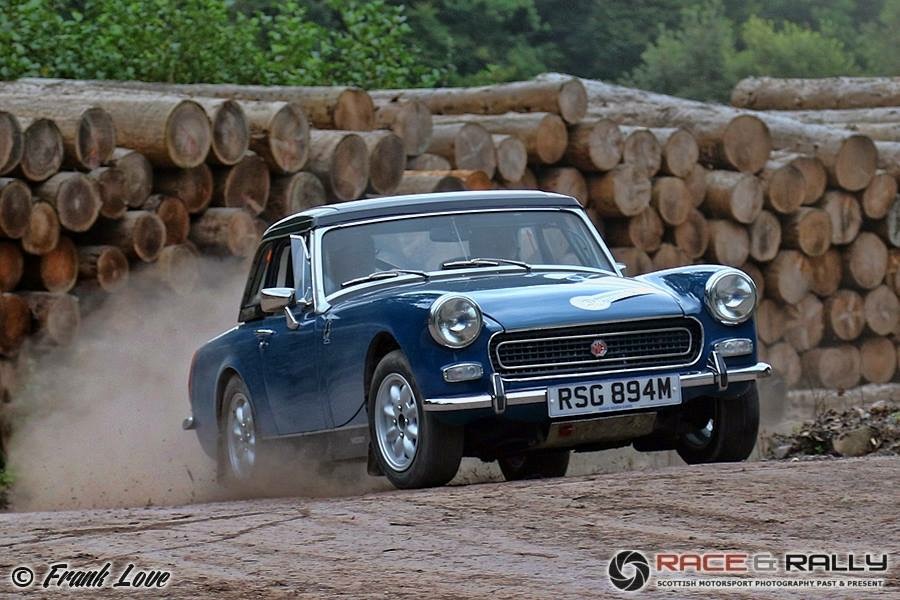 !!! WHAT A CLASSIC !!!
South of Scotland Car Club Ltd
Blue Door Dental Practice Doonhamer Classic Rally 2016
Sunday 18th September
This year the start, scrutineering, finish and Prize Presentation was all held at Lockerbie Lorry Park.
Scrutineering opened at 8:00am and all 32 cars were presented for scrutineering ,followed by signing on and collect their Road Book and Test Dia- grams before enjoying a 'Truckers Breakfast.
There were 17 tests with the good news that we were going to have four runs at the 'Fingland Fell' forest test.
Tests 1 & 4 were at Lockerbie Lorry Park. I managed to witness the high- ly entertaining driving display provided by Andy Beaumont in his Sunbeam Rapier H120 as he threw this big car around with accomplished aplomb. So good was the spectacle that he got a round of applause from the crews waiting to start this test.
Despite Andy Beaumonts heroic driving he was still only 7th fastest on this test (fastest Achie Simmonds 1:02)
Next up was Finglands Fell. (tests 2, 3, 5 & 6) Some crews would have been happy to have kept going back to this test all day long and not bothered with the rest.
Leader Andy Beaumont setting the fastest time (Last run & Test 6) of 1:43 (both Archie Simmonds & John Bertram tying on 1:45)
Tests 7 & 8 were at the Woodyard 'Rammerscales' An- other superb test site ,there were 5 crews who got it wrong,John Bertram was fastest on the first run with 1:51 and Archie Simmond fastest on the second run with 1:48)
It was starting to get very tight at the top. After Test 8. It was a three way tie between Archie Simmonds/Bob Har- greaves. John Bertram/Andrew Fish & Andy Beaumont /Roy Heath. All on 13:15
Test 9 'Eastriggs' A Tight and twisty test with big curbs to catch the unwary but still a joy to do.
Archie Simmonds clipped a cone and incurred a 10s penalty (1:40) and John Bertram (1:31) took 5 seconds out of Andy Beaumont (1:36)
Tests 10 & 11 'Cochran'. A relatively simple affair com- pared to previous years, however Andy Beaumont managed to get a wrong test here and dropped down the leader board on test 10. Test 10 was followed by lunch and then we did it all over again for test 11 (No dramas for anyone on test 11)
Tests 12 & 15 'Collin' I think this may have been an old Sand & Gravel Quarry. Only the odd cone here and there. In- stead of cones we had big blocks of sandstone to mark the chi- canes. I don't think anyone had a problem on these tests
Tests 13 & 16 'Oakbank'. A very long and complex test. John Bertram/Andrew Fish went wrong mid test on their first run. They stopped and then unwound themselves to where they went wrong but in doing so dropped 24seconds to Archie Sim- monds/Bob Hargreaves (fastest on 2:22)
Tests 14 & 17 'Jones's Yard'. Another long test on loose and broken concrete with the way to cones obstructed by some scrubby vegetation. A couple of crews managed to get wrong tests on the first run.?Test 14 Fastest John Bertram 1:12. Test 17 Fastest Archie Simmonds 1:13
Day over and back to Lockerbie for results.
1st Archie Simmonds/Bob Hargreaves MG Midget 27:42 2nd John Bertram/Andrew Fish Ford Escort Mk1 28:10 3rd Andy Beaumont/Roy Heath Sunbeam Rapier H120 29:57
1st Targa Andrew Graham/George Edminson ,Ford Puma
Highest placed SoSCC members Drew Mc Lean/ Karina Mc Lean , Mazda Mx5
All in All – A very enjoyable day out. Brilliant Test venues, fan- tastic scenery on the route between tests..
And lastly I would like to thank all sponsors, competitors , marshals , landowners and helpers who have all worked so hard to make this event the success it was.
Ian Crosbie
Clerk of the Course