July 26th, 2019
Great day at Maximum Attack Autotest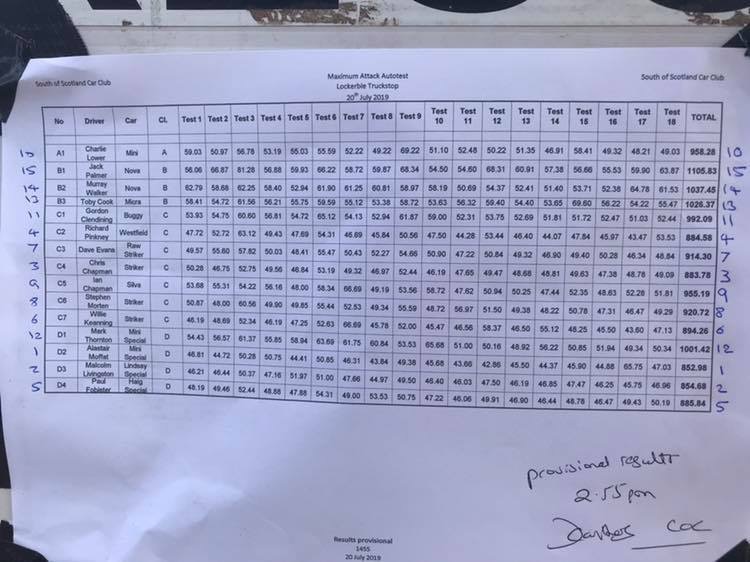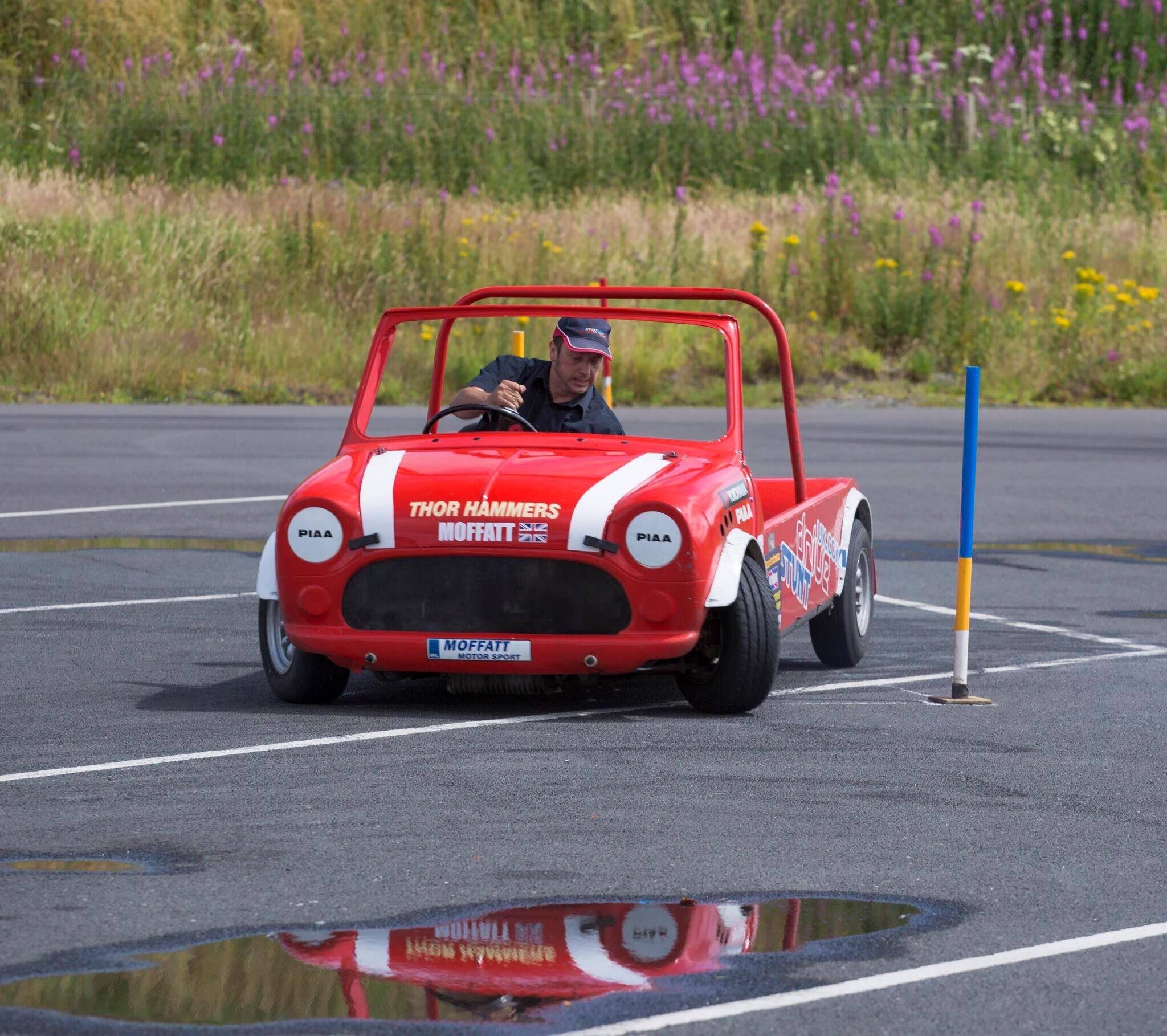 Mike Sones' report on Round 8 Maximum Attack Autotest South of Scotland Car Club on 20th July 2019.
Photo of event winner Al Moffatt is courtesy of Fern Motorsport ??
Cloudy, warm weather greeted the competitors in the 8th round of the championship on Saturday, at the Lockerbie Lorry Park. Three tests were laid out, each to be attempted six times to count for the awards. Malcolm Livingston (Lindsay Special 1600) was in trouble before the start, having to replace a locating bolt in the rear axle, successfully completed with the help of 2 or 3 other competitors. The first round of tests saw Alastair Moffatt (Mini Special 1400) and Malcolm Livingston (Lindsay Special 1600) just 1 second apart, with Paul Fobister (Fobby Special 1600) a further 7 seconds behind. The Sports Car class was in the hands of local man, and championship leader Willie Keaning (Striker 1800), with Chris Chapman (RAW Striker 1700) 4 seconds back. The saloon car class saw the renewal of the Knutsford battle between Toby Cook (Micra 1275) and Murray Walker (Nova 1600), Cook taking the initial lead by 9 seconds.
The cloud had turned to rain part way through the first round, and continued to affect competitors until the end of round 2, and produced some interesting times, though Richard Pinkney (Westfield 1600) thought it hadn't made much difference to his times whilst still learning to handle his new car. On average, most rain affected times were 5 to 10 seconds slower.
The lunchtime scoreboard after nine tests saw Moffatt having a lead of 7 seconds over Livingston, with Fobister now 20 seconds behind. Chris Chapman was now up to 3rd overall, 20 seconds behind Moffat, and 10 seconds ahead of the battling Keaning and Pinkney in the class. Cook had expanded his lead in the saloon cars over Walker to 23 seconds, but Charlie Lower's Mini 1275 was beating them both, 14 seconds clear of Cook.
The weather cleared up for the three afternoon rounds, and warm, dry conditions prevailed, allowing times to speed up considerably. Moffatt set off in fine form, pressurising Livingston into three small hesitations which were to prove decisive later on, whilst Chapman and Pinkney continued their private battle at the head of the sports cars, swapping times throughout the nine tests. Keaning collected a couple of penalties whilst giving chase, but not to fall to Dave Evans (RAW Striker 1600), who finished 20 seconds down. Lower's Mini continued apace, but Cook and Walker traded various penalties which saw Cook prevail by just 11 seconds at the finish. All the drama was left until the penultimate test, where Livingston had completed one of his best times, then watched as Moffatt's Mini Special came to a halt in the middle of the test with a broken driveshaft, and a maximum penalty. Moffatt replaced the driveshaft, again with the help of fellow competitors, and finished the last test. What were the scores? Livingston had set fastest time on the last test, but was it enough? The scoreboard said NO. Moffatt won by just 1.7 seconds to end an absorbing, furious day.
Results
(Secs)
1st Alastair Moffatt Mini Special 1400 852-9
2nd Malcolm Livingston Lindsay Special 1600 854-6
3rd Chris Chapman RAW Striker 1700 883-7
4th Richard Pinkney Westfield 1600 884-5
5th Paul Fobister Fobby Special 1600 885-8
Motorsport UK British Autotest Championship Scores;-
1st Willie Keaning RAW Striker 1800 210 pts
2nd Alastair Moffatt Mini Special 1400 206
3rd Paul Fobister Fobby Special 1600 190
4th Malcolm Livingston Lindsay Special 1600 189
5th Chris Chapman RAW Striker 1700 187