May 13th, 2019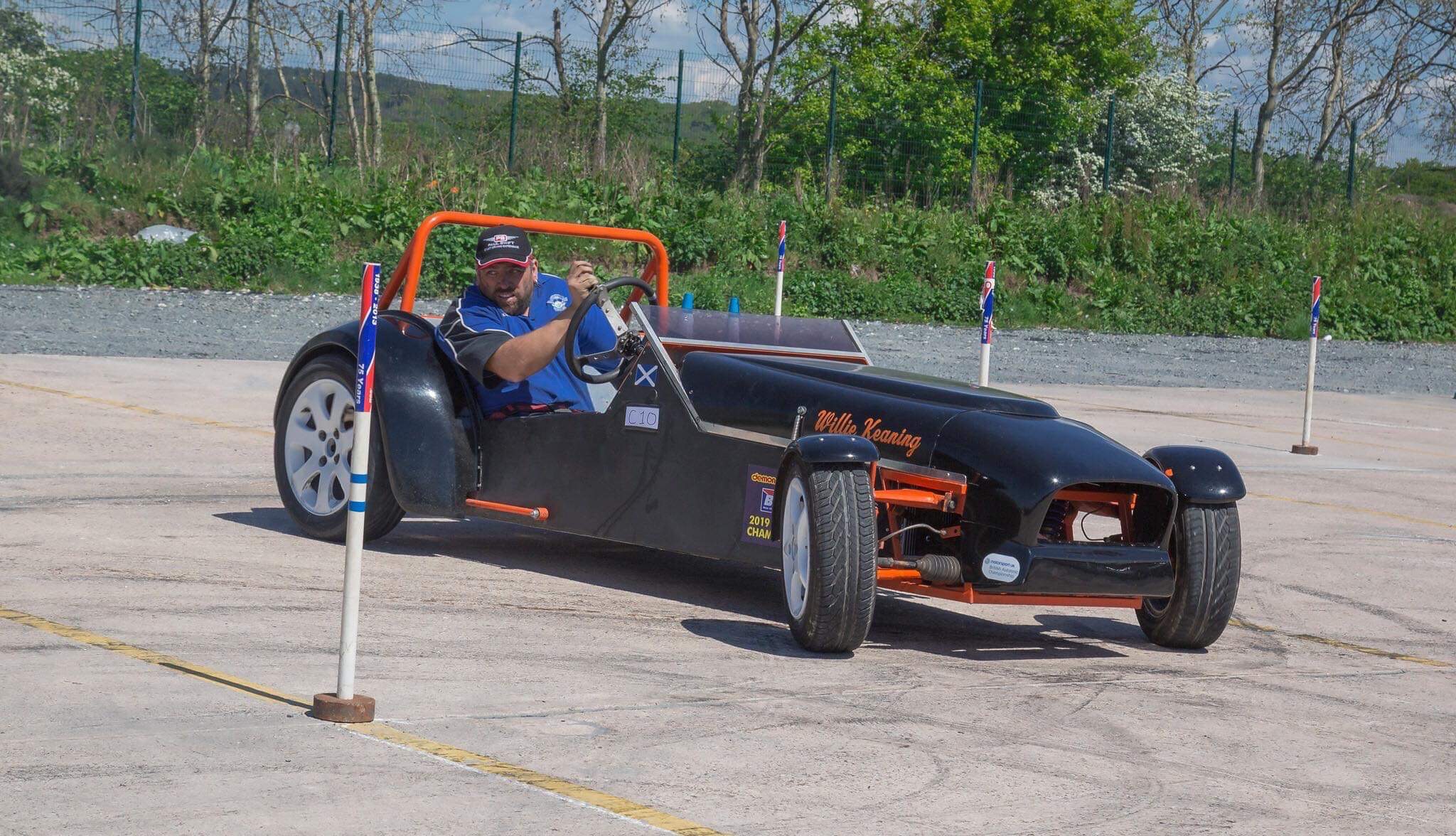 Motorsport Uk British Autotest Championship report
here's Mike Sones' report ?
Round 4 – The Staffordshire Knot Autotests, organised by Wolverhampton and South Staffordshire Car Club Ltd on 12 May 2019
The fourth round of the championship was held at the Road King Truckstop near Cannock, where a warm, sunny day saw a concentrated event conclude with some surprising results. Three tests were laid out, each to be attempted five times on a new concrete parking area, and there were surprises on the first round, where Ian Chapman (Xmoor Riot 1700) held a 4 second lead over Malcolm Livingston (Lindsay Special 1600) thanks to Livingston having collected a 5 second penalty on the very first test. Sports cars held 3rd, 4th, and 5th, despite both Willie Keaning (Striker 1800) and Chris Chapman (Striker 1700) having collected a 5 second penalty each, whilst Dave Evans (Striker 1600) remained penalty free. The second round saw Livingston gain the lead from Ian Chapman, whilst Chris Chapman retained 5th place despite collecting a penalty on the 4th test, overhauling Dave Evans in the process. Paul Fobister (Fobby Special 1600) remained in 4th place, and both he and Chris Chapman were coming under pressure from Dave Fox (Mini 1600), just 2 seconds behind.
Lunchtime saw Willie Keaning now holding a 3 second lead over Malcolm Livingston, despite having to change a gearbox part way through the third round, with Ian Chapman and Paul Fobister holding station in 3rd and 4th. However, Chris Chapman had collected another penalty, allowing Dave Evans into 5th place overall by just 1 second. Warren Gillespie (Nova 1600) held a commanding lead in the Saloon Car class, but the Mini class was now being led by young newcomer Charlie Lower (Mini 1380) following Dave Fox collecting a maximum penalty on test 9. Steve Morten spent lunchtime changing his gearbox after it failed on test 8, leaving him in 11th place overall.
The two afternoon rounds passed without further drama, but Ian Chapman retained 3rd overall despite collecting another 5 second penalty, whilst Chris Chapman mounted a determined charge which would see him overtake Dave Evans on the 4th round, and Paul Fobister on the last round. Warren Gillespie's dominant win in the saloon class saw him take 7th overall, but he was only 5 seconds ahead of the Mini class winner Charlie Lower, who is still classified as a novice, who was just 2 seconds ahead of Dave Fox. Malcolm Livingston had closed the gap to Willie Keaning to only 2 seconds, the irony being that Malcolm's engine was one bought from Willie two weeks ago, and left the question on everyone's lips being "who was the last Scot to win a championship event?" It may not be long before Willie repeats this landmark result.
Results:
1st Willie Keaning RAW Striker 1800 531.4 secs
2nd Malcolm Livingston Lindsay Special 1600 533.7
3rd Ian Chapman Xmoor Riot 1700 542.7
4th Chris Chapman RAW Striker 1700 566.9
5th Paul Fobister Fobby Special 1600 567.5
Motorsport UK British Autotest Championship Scores;-
1st Willie Keaning RAW Striker 1800 107 pts
2nd Chris Chapman RAW Striker 1800 103
3rd Paul Fobister Fobby Special 1600 94
4th Warren Gillespie Nova 1800 88
5th Alastair Moffatt Mini Special 1400 86
photo credited to Fern Motorsport