July 24th, 2017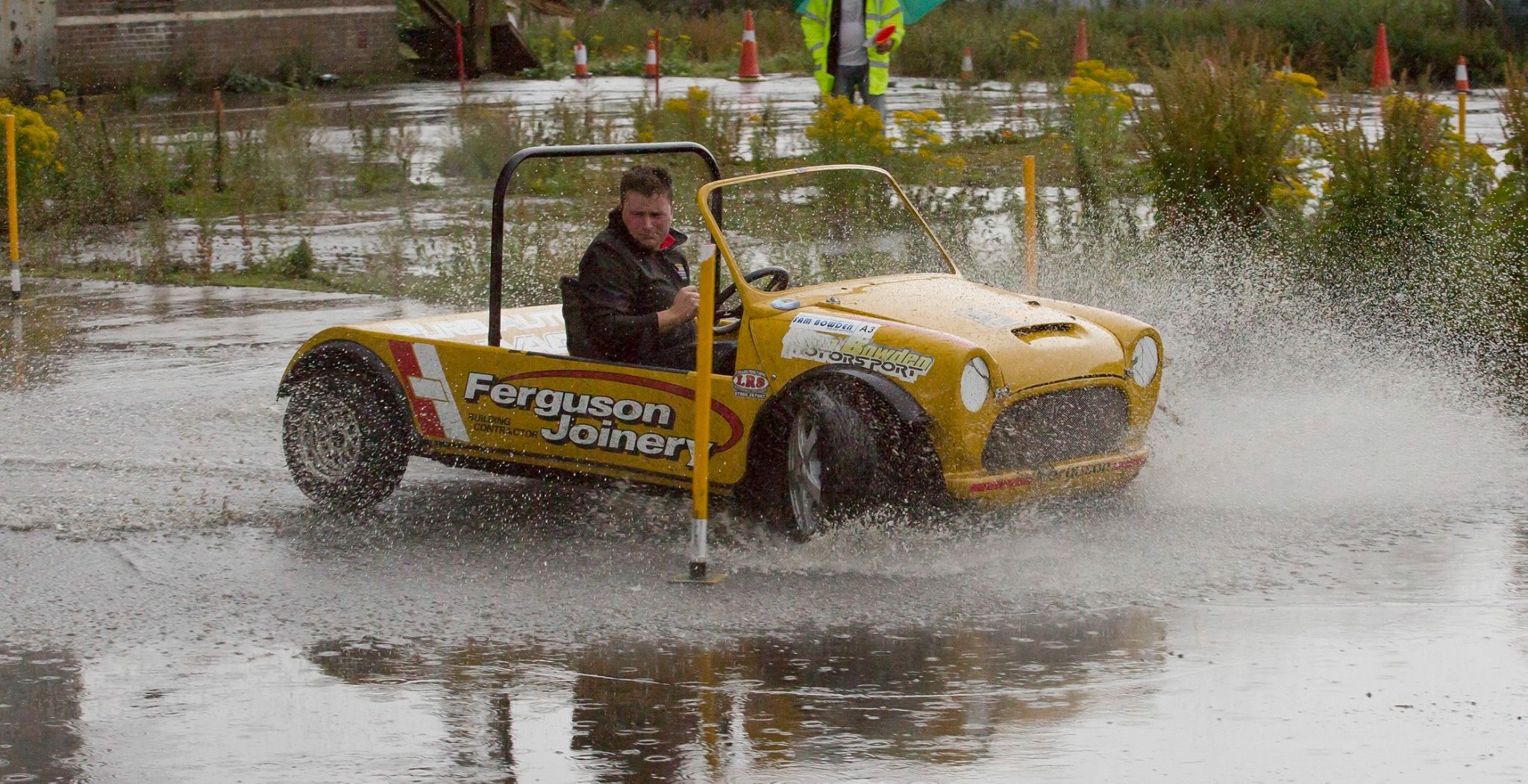 MSA-BTRDA Autotest Championship report
As any good autotester knows, you leave the venue how you found it. So he did his best to shift as much of the rain water that wasn't there when we got here, off the site.

Posted by Fern Motorsport on Saturday, 22 July 2017
Round 8 Maximum Attack Autotest
South of Scotland Car Club
22nd July 2017
Report by Mike Sones
Overcast weather greeted the 20 competitors on the Maximum Attack Autotest in Dumfries on Saturday for the 8th round of the MSA Autotest championship. With three visitors from Northern Ireland, the event promised some exciting competition, which it got, but not quite as expected! Steven Ferguson (Mini Special) took an immediate 5 seconds lead after the first round of three tests from Dave Mosey (Mini 1430), Malcolm Livingston (Lindsay Special 1600), and Mark King (Nova 1400). Ferguson extended his lead after the second round to 8 seconds over Mosey, with Richard Pinkney (Caterham7 1600) and Livingston a further 10 seconds back. King was now in 5th place, having collected a 10 second penalty.
The lunchtime scoreboard, after nine tests, showed Ferguson with a commanding 13 seconds lead over Mosey, and Pinkney just a further 1.8 seconds down. Livingston had extended his lead over King to 7 seconds whilst championship leader Chris Chapman (Striker 1800) was a further 8 seconds behind. The saloon car class involved the usual two Scotsmen, Willie Keaning and Warren Gillespie in their Nova 1600s, Gillespie holding a 1.5 second lead over Keaning as a result of Keaning breaking yet another gearbox on test 5.
The nine afternoon tests began without drama, but the weather soon changed that. Very heavy rain began to fall during the first round, and the event was halted after the 12th test, to await an improvement. The three test sites resembled boating lakes, and after 30 minutes, competitors and marshals alike were keen to resume the competition, albeit without one site which was completely covered with water. The rain continued, and Ferguson continued to dominate the event, now with 28 seconds over Pinkney and Mosey who were holding their own private battle for second and third place, who in turn were 20 seconds ahead of Livingston and King trading times for fourth and fifth places overall.
Results;
1st Steven Ferguson Mini Special 969.4 secs
2nd Richard Pinkney Caterham 7 1600 1002.3
3rd Dave Mosey Mini 1430 1007.0
4th Mark King Nova 1400 1018.9
5th Malcolm Livingston Lindsay Special 1600 1023.2
MSA Championship Scores;-
1st Chris Chapman RAW Striker 1800 219 pts
2nd Malcolm Livingston Lindsay Special 1600 219
3rd Dave Mosey Mini 1430 206
4th Dave Evans Blitz Special 2000 189
5th Richard Pinkney Caterham 7 1600 172