August 8th, 2017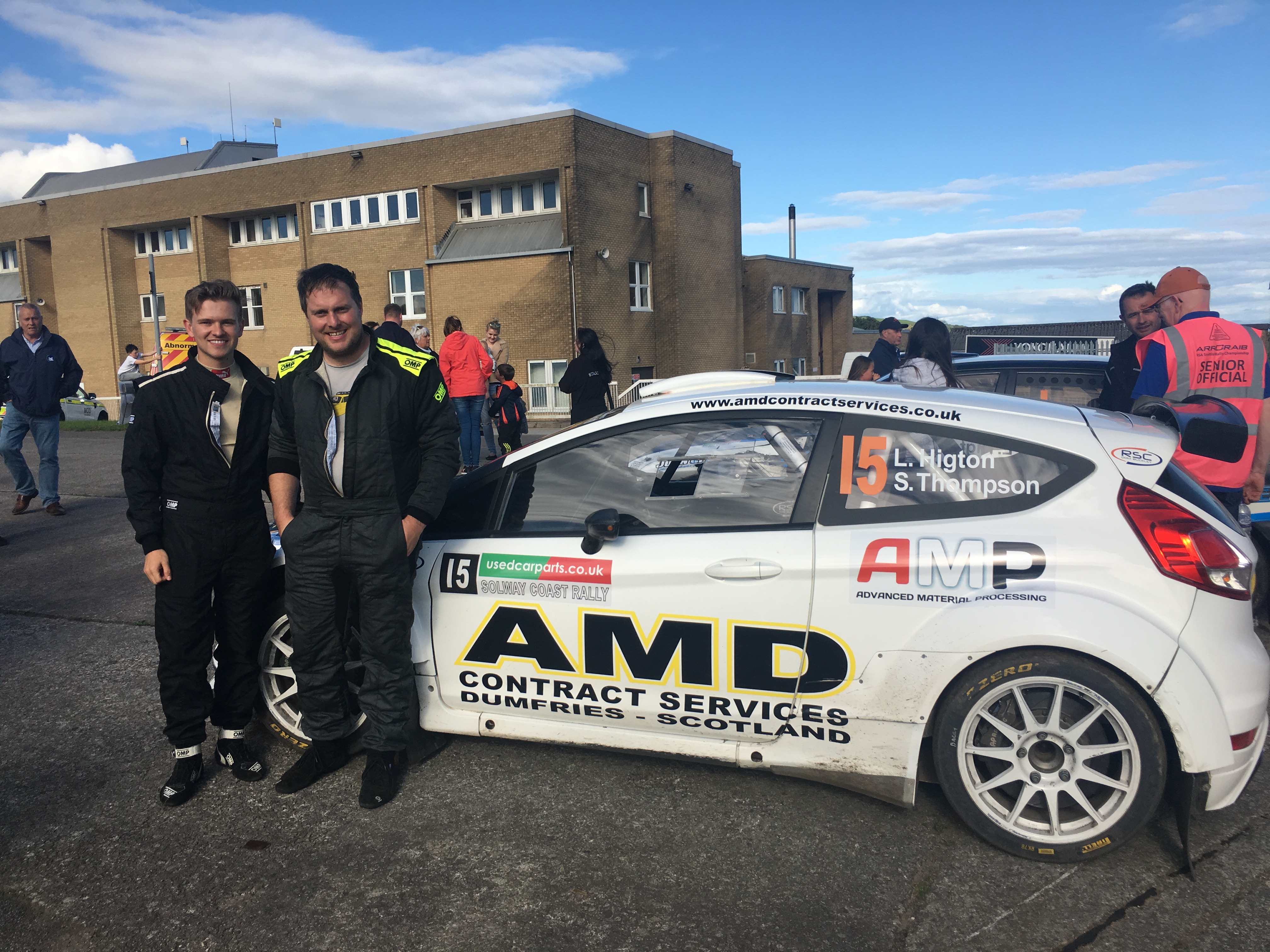 SoSCC members update from Solway Coast Rallies
Well where do I start , what a great weekend of Motorsport .
Well done to Solway Car Club for what has to be the best event & entry in the STRC Championship this year , with such a quality field of competitors.
Straight out the blocks was Mark Mc Culloch / Michael Hendry with fastest on 7 out of 8 stages only to get a scare in the later stage with a puncture , but held on the take the win by 4 seconds from the hard charging AMD Sponsored Fiesta R5 of Stephen Thompson/ Larry Higton , 1st time out in a 4×4 Rally car ,who were vastly improving as the day went on.
In 6th place was the Craigie Bank Garage Sponsored imaculate Subaru Impreza of Ian Paterson/Heather Grisedale, who held on dispite having gearbox problems throughout the day.
Next up was Steve Retchless / Sasha Heriot in their tidy Mk2 escort who alway go well at this event finishing 12th overall.
Stuart Paterson/Alan Paterson in the OakTree Garage / Threave Rural sponsored Subaru with their new clicky box were going well all day finishing 17th overall.
Gareth White /Harry Marchbank in their Peugeot 208 R2 Vti were going well to finish 19th overall & 1st in class to pick up top STRC points and also competing the next day at Otterburn and finishing with a good haul of points to be sitting top of the championship hopefully ( Must be favourites for this years championship)
Willie Nelson/Craig Nelson in the AMD sponsored Subaru Impreza finishing in 27th overall.
Jim Robertson / Claire Robertson in the Penpont Garage sponsored C2R2 had a misfire problem in the morning stages , but were going well later in the day to take 36 th overall.
First time behind the wheel of a rally car was our new club member Drew Gallagher in the Cardwell Garden Centre sponsored Subaru Impreza keeping him right with the notes was Chris Mc Knight who was getting quicker all day to finish 41st overall .
Next up was Niall Cowan Jnr / Thomas Bruce in the Earsman sponsored MGZR who had a few problems over the day to finish 51st overall.
Now the not so luck crews
Greg McKnight / David Crosbie in the Scottish Gritting sponsored Evo 9 was challenging at the top lying 2nd overall before the popped a driveshaft at the furthest away point on the range , but were setting some good time upto then.
Billy Mc Lelland /Helen Brown in the DW Construction Evo 3 who were going well before they came to a sudden stop and had to be rescued from their vehicle , I have no news at this time but hope they are both recovering well and are out on the stages again soon. All SoSCC members wish you's both well and a speedy recovery.
Liam Harkness/ Steven Clark were out in the vastly improved Subaru Impreza who were hoping to do well , but Liam caught a car and was overtaking it and hit something in the undergrowth and damaged a ball joint to put him out the event , but was later recovered by his service crew to continue with a bit of testing , and was also setting some good times.
Junior Event
The junior event was held on the Sunday and the youngest & oldest competing club members Alice Paterson/ Ian Crosbie in the OakTree Garage Peugeot 107 finished 20th out of 24 starters but not without her problems which included a wee lock -up in the snake pit , being held up with another competitor, and last but not least a big double aquaplane spin , so all in all an exciting days Rallying , but all great fun .
Alway remember Alice, !! Rally Drivers alway have an excuse when things go wrong , so start as you mean to go on.
And last but not least the Historics Alan McMorran/ Mark Simpson in the trusty old avenger , all I have is retired due to Alan being Sea Sick.
So well done again to Solway Car Club , all marshals, Dr Steven Brown , Recovery and all the officials involved throughout the weekend, what a tough weekend you's guys had .