May 29th, 2018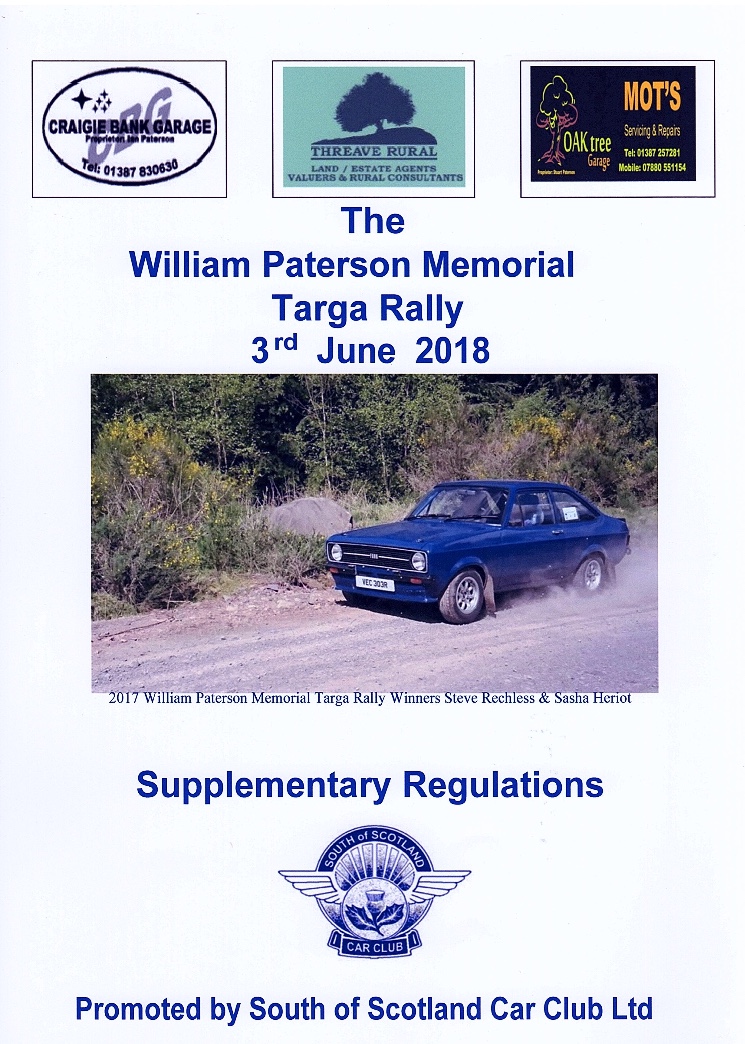 The William Paterson Targa Rally Finals & Seeded List
The William Paterson Memorial Targa Rally 2018 Finals & Seeded List
Sunday 3rd June 2018
Final Instructions
Thank you for your entry, your start number is listed below, but may change if there are withdrawals from list
If you have any questions please contact Ian Crosbie CoC 07740949240 as soon as possible.
Start Venue
Here is the address and postcode to type into your sat nav:
Brownrigg Loaning, Dumfries DG1 3JU
Coming from the South A75 Turn Left at roundabout at Shell Garage SP Dumfries, next Mini Roundabout at Lookers VW Garage straight ahead, passed Denton Tyres on right, 500mtr turn right at junction (will have a motorsport arrow displayed) then immediate Left at Ciceley Commercial yard
From North turn Right at Shell Roundabout, then follow above instructions
On arrival at HQ area please unload cars and park trailers and towing vehicle at back of parking area at Oaktree Garage premises due to limited space. Then park competing cars in a line in starting order in front of HQ
Please be aware the Police will be on the Targa roads on Sunday
`
The Official Notice Board
This will be located at Rally HQ at signing on, at Oaktree Garage at start of the event
Drivers Briefing
The drivers briefing will be held at the Rally HQ at the HQ area at 9.30 am.approx all competitors must attend. 1st car will start from HQ AT 10.01
Contacting the Organisers
Clerk of the Course: Ian Crosbie 07740949240
Noise Test & Scrutineering, Signing On
Access
Access to the Start venue is available from 07:45 am onwards.
Noise Check
Noise check will open at 08.00am. Vehicles failing the noise check will not be allowed to start.
Scrutineering
Follow the arrows on arrival at the venue to the car parking area. Please park as directed and report to signing-on. Noise check, Scrutineering and signing on will be adjacent to the car parking area at Oaktree Garage. Any competitor not signed on by 9.30 am will not be allowed to start.
There will be super unleaded fuel within the event area, so make sure you have enough to complete the event which is approximately 60 miles in total, there are three garages on the rally route selling regular fuel if required
Please remember spill kit & Triangle
Ammendments / Additions to the SR's
Officials. Msa Scrutineer:- Peter Clingan
Club Stewards:- Gordon Paterson & Alan Candlish
Chief Marshal:- Donald Carruthers
All stop lines are stop astride
There will be Code Boards on some tests which will have a large C on an A4 Day-Glo card, I will post there positions on notice board on Sunday
Penalties for missing or wrong code will be 20 seconds
All road section routes will now be on a marked map instead of tulip diagram road book
Any other updates will be posted on Notice Board at HQ on Sunday
| | | | | | | | |
| --- | --- | --- | --- | --- | --- | --- | --- |
| No | Driver | Town | Navigator | Town | Car | cc | Cls |
| 1 | Chris Hunter | Workington | Fiona Tyson | Workington | Mazda Mx5 | 1.8 | MB |
| 2 | Simon Jennings | Durham | Liam Charlton | Hexham | Peugeot 106 Gti | 1.6 | MB |
| 3 | Kevin Savage | Carnforth | Phillip Savage | Morecambe | Suzuki Ignis | 1.5 | MB |
| 4 | Jack Palmer | Maryport | Liam Hodgson | Cockermouth | Rover 25 | 1.4 | MA |
| 5 | Craig Wallace | Kirriemuir | Alastair Beck | Prestwick | Toyota Corolla G6R | 1.6 | MB |
| 6 | Ryan Hay | Denny | Niall Thomson | Bo'ness | Toyota Paseo ST | 1.5 | MB |
| 7 | Chris Marsh | Hornsea | Andy Beaumont | Hull | Proton Satria Gt | 1.8 | EB |
| 8 | Stuart Paterson | Dumfries | Alice Paterson | Dumfries | Renault Clio WRC | 1.5 | NA |
| 9 | David Crosbie | Penpont | Kelsey Gillespie | Dumfries | Renault Clio | 1.2 | NA |
| 10 | Allan Paterson | Dumfries | Helen Brown | Dumfries | Mazda Mx5 | 1.8 | NB |
| 11 | Quentin James | Preston | Tom Howe | Preston | Citroen C2 GT | 1.5 | EB |
| 12 | Helen Harkness | Carlisle | Barry Lindsay | Carlisle | Vauxhall Corsa | 1.4 | MA |
| 13 | Philip Hodgson | Carlisle | Ian Giles | Penrith | Mazda Mx5 | 2.0 | EB |
| 14 | Paul Bowness | Wigton | Esther Bowness | Wigton | Mazda MX5 | 1.8 | EB |
| 15 | Fraser Hughes | Conon Bridge | Peter Mc Innes | Fortrose | Mazda Mx5 | 1.8 | EB |
| 16 | Jack Houston | Castle Douglas | Albert Connelly | Castle Douglas | Mazda Mx5 | 1.6 | NB |
| 17 | Nick Robertson | Glenluce | Graham Pollitt | Bridge of Dee | Renault Clio172 | 2.0 | EB |
| 18 | Sam Hunter | Prestwick | Andrew Hunter | Sorn | BMW 318 TI | 1.9 | NB |
| 19 | Calum MC Lean | Killean | Hunter Rice | bonnybridge | BMW 318Ti | 1.8 | NB |
| 20 | Kathryn Mackay | Carnforth | Malcolm Mackay | Carnforth | Mini Clubman | 1.3 | NA |