June 18th, 2019
Well done all crews at the Summer Stages Crail
Well done to Richard Crozier and his team and all marshals & radio crews and scrutineers who helped at Crail Summer Stages , great layout off stages .
This was Letisha Conn 4 event in the J1000 Ecosse Challenge and she gets better every time she is out and yesterday was no exception .Started Ss1 and had a good clean run and time .Ss2 Were going well until we lost the intercom for the last 2 laps and dropped quite a bit off time on this stage.
Ss3 Got intercom sorted and got back on track again setting another good time and lying about 4th overall.
Ss4 getting quicker on every stage and had to change bottom front arm as it was bent so well done to Stuart Paterson & Iain Haining for replacing the arm in the 20 min service and sending us on our way.
Ss5 again upping our pack and this was our best stage off the day to finish 4 th overall and pick up some valuable points .
Well done to our team yesterday
In the Oaktree car hire team of Stuart Paterson, Owen Paterson ,Alice Kay Paterson, William Paterson ,Stephen Conn,Letisha Conn, Bobby Conn,& David Crosbie.
Also well done to the J1000 Ecosse Team you do a great job to make us one big happy family.
Thanks very much
thanks to Thistle Motorsport Photography for photo.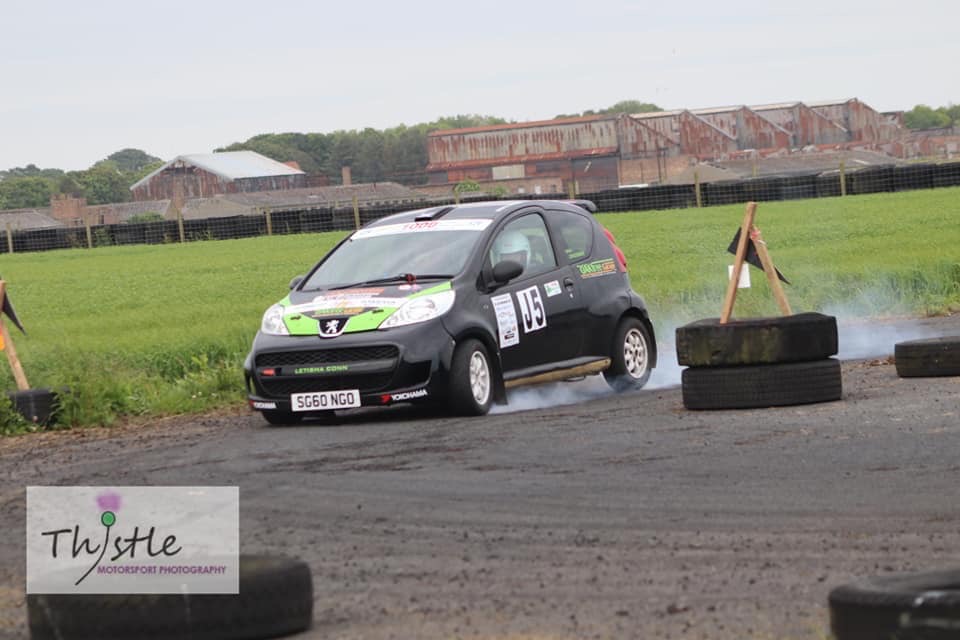 also two crews in the senior rally in the morning .
Joe McKeand & David Crosbie finishing 16 th overall with brake problems in the early stages.
Nathan Hogg & Harry Marchbank in what was Nathan's first event bud did not finish due to gear linkage problems.